Established in 2020, Treetoscope is a precision irrigation management company that develops innovative direct plant monitoring technology. The startup engineered a one-of-a-kind commercial device that senses a plant's internal water flow. This device calculates its water consumption and real-time irrigation needs. It empowers growers to reduce water costs and improve efficiency, yield and resilience.
Treetoscope's technology is easy-to-deploy and affordable. This solution offers growers significant added value and a quick return on investment. It is practical and profitable for all stakeholders in the value chain.
Treetoscope uses integrated multisource data resources to provide insights, which yield the highest real-time quantitative data on the market. The patented sap flow equipment measures a plant's water uptake quantitatively (e.g., liters, gallons, etc.).
This data combines remote data from various sources. These sources include weather, satellite imaging and soil type. This enables high-value, plot-level irrigation optimization insights. Farmers and growers can optimize irrigation in a scalable, high-valued manner by taking this approach.
Delivering Cutting-Edge Smart Irrigation Management at the Farm Level Worldwide
Treetoscope is based in Israel. It offers advanced agricultural services to farmers and growers through a series of ongoing pilots, sales and partnerships in:
The United States
Mexico
Israel
Southern Europe
In 2024, Treetoscope plans to expand into the South American market and other regions prone to water scarcity. The physics associated with Treetoscope's technology works on all crops. Therefore, testing and including additional crops will continue in the future.
Treetoscope is guided by a "global-local" commitment to providing solutions at the farm level. The company partners with customers worldwide to help grow their businesses. In late 2022, Treetoscope announced a collaboration with The Toro Company, a leading worldwide provider of advanced outdoor solutions. This partnership allows The Toro Company to leverage Treetoscope's innovative, direct plant sensing technology to support irrigation management decisions.
Forging such relationships allows Treetoscope to deliver many advantages to growers, including:
Actionable information on irrigation demand using direct sensing of plant water uptake
Easy-to-read output in inches of water, delivered through a simple, concise dashboard
Hassle-free installation completed in minutes with basic tools
No need for sensor calibration or maintenance
Affordable technology with minimal hardware
Trusted results validated by leading agricultural research institutions
"Toro Ag is excited to partner with Treetoscope and for the value this solution will bring to our customers and industry. Delivering simple, specific, actionable information will make irrigation management tools more accessible to a wider range of growers. These tools empower our customers seeking to improve water use efficiency, protect and enhance yields, and manage input costs in the face of an increasing strain on resources."

— Neville Mody, General Manager, Toro Ag Americas
Treetoscope's go-to-market strategy uses a profit-share model with large, well-established distribution channels. This strategy has proven effective, evidenced by signed contracts of tens of millions of dollars.
Plug-and-play technology facilitates Treetoscope's proprietary agricultural solution. It incurs minimal maintenance costs and has low costs of goods sold (COGS), which translates to higher profitability.
The Challenge: Achieving a Data-Driven Approach to Sustainable Irrigation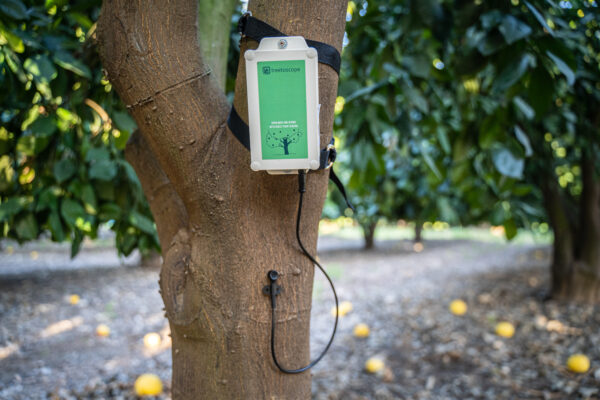 Agriculture uses 70% of global freshwater resources and contributes to almost a quarter of greenhouse gas emissions. In addition, current irrigation methods are inefficient. Over 70% of global irrigation is carried out through flooding, which is wasteful and harmful to the environment. Only a small portion of the remaining 30% utilizes precision irrigation, which is optimal and advanced.
Low technology adoption rates stem from three major barriers that prevent growers from investing in precision irrigation systems:
High costs
Scalability issues
Value for money
Treetoscope's technology solves all of these and allows farmers to progress, make their farms more sustainable and protect the environment.
Treetoscope wanted to promote a more sustainable, data-driven approach to irrigation that would benefit growers and the environment. The company sought an experienced IoT technology vendor with dependable modules and connectivity. These IoT enablement solutions would ensure precise irrigation management in various locations worldwide.
"Telit Cinterion offers a holistic solution from the SIM to the modem and all the IoT management. The service and response to our unique requirements are top-notch. We truly feel they make great efforts to provide a quick, efficient and quality approach to our requests."

— Eilon Levi, Head of Product, Treetoscope
The Solution: Sap Flow, a Precision Irrigation Game-Changer
Sap flow sensors have been largely abandoned due to technical challenges. In addition, easier ways of measuring a crop's water status have emerged. Treetoscope's novel algorithm and sensor technology in its sap flow sensor have transformed the precision irrigation market.
The company developed its Irrigation Management Platform using our connectivity and cellular LPWA modules integrated with OneEdge™, powered by Telit Cinterion. Treetoscope's platform combines unparalleled accuracy and reliability in measuring crop water use with AI-generated insights for growers. In addition, it ensures an affordable, scalable solution that creates value for the user.

"Knowing the real-time water consumption of plants (i.e., sap flow) has the potential to revolutionize the precise irrigation world. Treetoscope is doing exactly that."

— Dubi Raz, VP Agronomy, Netafim
The Results: Precision Irrigation Management That Maximizes Crop Yield
Treetoscope's Irrigation Management Platform empowers growers with unrivaled knowledge of their crops' real-time water needs, enabling smarter water resource use. The Irrigation Management Platform is an intuitive system that simplifies the complexity of crop water needs. It provides field-by-field information that's actionable and easy to understand.
The plug-and-play platform can be accessed from any internet-enabled device, providing growers with immediate irrigation recommendations. Initial setup costs are minimal. Treetoscope helps farmers identify where to place the sap flow sensors and build an accurate picture of crop water needs. Unlike many other solutions on the market, there is no need for costly external technical support services.
Treetoscope's affordable and groundbreaking solution empowers growers to make optimal irrigation decisions. They can reduce the use of water, fertilizer and crop protection products while maximizing yield. Leveraging Treetoscope's Irrigation Management Platform can lead to increased crop yield value and farm-level income. These advantages more than offset the cost of the platform.
Noted parties incorporating Treetoscope's Irrigation Management Platform into their growing activities observed the following:
20% decrease in water consumption in avocado crops (Kfar Menachem, Israel)
30% decrease in water consumption in wine grapes crops (Fresno, CA)
We recognize days when trees "close" due to extreme heat waves, as the trees manage it themselves, eliminating the need to water them in these cases
Finally, knowing when and how much to irrigate eliminates a costly guessing game for growers. The Irrigation Management Platform supplies growers with data about the water needs of their crops in real time. This knowledge promotes optimal irrigation decisions and peace of mind for growers in a volatile climate and growing environment.
"After working with sap flow sensors for the last 12 years, I found that few use this technology due to technical and cost barriers. Treetoscope's pioneering technology offers farmers a reliable, scalable solution to this mystery. It allows them to optimize irrigation according to plants' needs with an easy-to-use and reliable sensor."

— Yakir Preisler, Ph.D., postdoctoral fellow, Harvard School of Engineering
Let us know if you are interested in working on a customer case study.