Modules, Connectivity
WaterSignal: Reliable Water Monitoring and Leak Prevention with Cellular Connectivity

Baseline water benchmarking and evaluation have become essential as water scarcity increases worldwide. Accomplishing this means data must be collected (e.g., one to two years of water bills). Parts of a facility that use the most water must be identified to determine water and sewer costs.
WaterSignal's real-time water monitoring and leak detection system has positioned the company as a water conservation innovator. The company has over two decades of expertise in engineering and the Internet of Things (IoT). It monitors domestic meters, irrigation systems and cooling towers for:
Residential areas
Commercial buildings
Multifamily homes
Senior living facilities
Medical facilities
Schools and colleges
The United States has over two million cooling towers that use millions of gallons of water annually to cool buildings nationwide. WaterSignal's technology enables make-up and blow-down meter monitoring for cooling towers. It provides operation teams with deeper insights into the tower's efficiencies.
This remote water monitoring capability removes the on-site team's tedious, manual day-to-day meter reading process. Cooling tower monitoring empowers teams to:
Proactively look for leaks
Mitigate water loss and water damage
Justify evaporation credits with local municipalities
WaterSignal provides a customized dashboard specifically designed for cooling towers. Teams can use the interface to compare the make-up water that goes through the tower to the blow-down water that returns to the sewer. The average evaporation credit per cooling tower is $14,000 annually.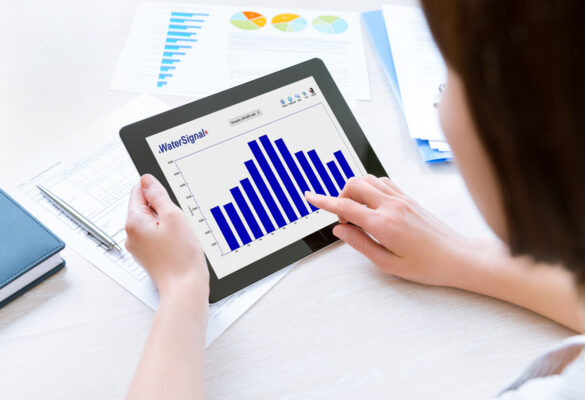 The Challenge: Ensuring Always-On Connectivity
Unlike most of its competitors, WaterSignal's water monitoring solution is non-invasive. It can be attached to any existing water meter without cutting the pipe or replacing the meter. This versatility significantly reduces costs and allows installation almost anywhere — without additional city approval.
WaterSignal sought to transfer water data independent of a power source. This ability is critical, especially with the increase in power outages. WaterSignal needed a trusted and reliable technology partner for cellular IoT connectivity and network services.
The Solution: Providing a Stable Connection for Water Monitoring
We selected this leading IoT provider because of its excellent reputation for quality modules. Later, we expanded to its IoT connectivity network services.

WaterSignal can ensure connectivity for customers via cellular data rather than Wi-Fi. It does not require a connection to power. This capability provides a more stable connection. It allows the WaterSignal device to communicate, even in deep vaults or locations far away from buildings with Wi-Fi.

— Aaron Beasley, Executive Vice President, WaterSignal
WaterSignal uses our cellular LPWA modules and IoT connectivity solutions in all its units.
Cellular LPWA enables various devices, including:
Our cellular LPWA modules feature Power Saving Mode (PSM) and extended Discontinuous Reception (eDRX). They are ideal for extending IoT application power savings and battery life when supported by the networks.
The cellular LPWA module family form factor allows developers to implement a "design once, use anywhere" strategy. Developers can reduce costs and development time by designing around a common form factor. This strategy provides the freedom to deploy technologies best suited for the application's environment.
The radio frequency front-end (RFFE) engineering provides reliable connections, even when IoT devices are in hard-to-reach locations. Moreover, it enables superior performance for the module.
Results: WaterSignal Customer Avoids Potential $200,000 Loss
On a Saturday, I started getting alerts around 11:00 a.m. that our Falcon Complex meter was using 28,000 gallons of water ($350) per hour. After searching several buildings attached to this meter, our plumbing foreman found a CLA valve for a surge tank malfunctioning and leaking. He shut it off and rebuilt the valve the next day.

We were very fortunate to have the WaterSignal alerts and the experience of a plumbing foreman to locate and fix the problem. If we had not been alerted by WaterSignal, this leak would have persisted to the end of the billing period, costing us over $200,000!"

— Jay Bonham, Cypress-Fairbanks ISD, Energy Manager
Let us know if you are interested in working on a customer case study.