Beyond was founded in 2003, long before Internet of Things (IoT) was a recognized term. The company is one of the world's first true cloud-based IoT providers, supplying pharmaceutical and biological cold chain monitoring solutions.
The company's Beyond Cold Chain™ technology is an easy-to-use, cloud-based cold chain management solution. It provides real-time visibility of an organization's cold chain — a constant view of temperature-sensitive assets and equipment anywhere on the globe. Sending critical alerts to the right people at the right time ensures that temperature deviations do not degrade or destroy temperature-sensitive products.
Seamless Remote Cold Chain Worldwide
Organizations worldwide use Beyond Cold Chain, including:
The World Health Organization (WHO)
UNICEF
The International Committee of the Red Cross
The Pan American Health Organization
These organizations leverage Beyond's solution for seamless remote monitoring across the vaccine cold chain, from central stores to the most remote clinics. Beyond Cold Chain enables remote monitoring and control for refrigerators and freezers.
Authorized refrigeration technicians can make temperature adjustments without dispatching field technicians. In addition, this ability saves time and costs and is particularly important for remote sites in hard-to-reach areas.
Complete Cold Chain Asset Management
Combined with Beyond's patented FreezeGuard device, accidental freezing that may occur due to equipment failure or overpacking can be prevented. Organizations can manage their entire fleet of remote and mobile cold chain assets online using Beyond's tools, which include:
Real-time GIS dashboard accessible via smartphone and internet browser
Multi-recipient SMS, app and email escalations
On-demand reporting
Scheduled daily, weekly and monthly cold-chain performance reports
Alarm analytics
Root-cause and corrective action reports and analytics
Remote temperature control
Accidental freeze prevention
User-specific access rights with user activity and utilization reports
Beyond's ICE3™ is the world's most feature-rich and robust remote temperature monitoring device (RTMD). The ICE3's dual-SIM design with included global SIM and data gives it complete network redundancy worldwide without requiring physical network infrastructure.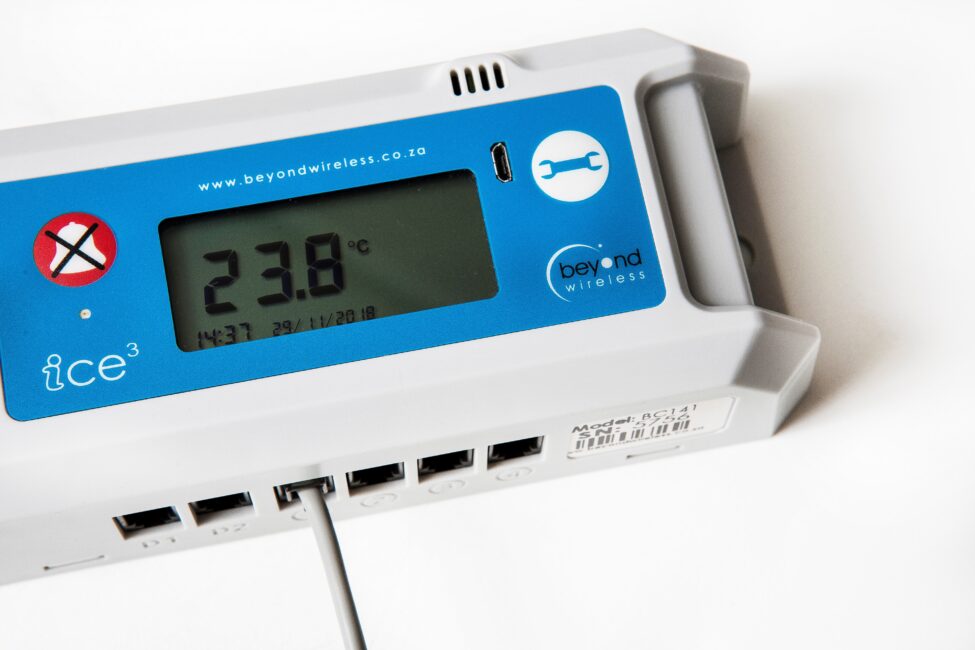 No power supply is required. The ICE3 comes in off-grid, mains and solar variants, all with an integrated backup battery. The off-grid variant is immune to damage from spikes, surges, brownouts and blackouts. This immunity is a major advantage in parts of the world where the power supply can be unreliable.
The ICE3 is easy to install and doesn't require tools or special training. A typical installation on a vaccine refrigerator takes less than three minutes, giving it the lowest deployment cost of any RTMD on the market. Each ICE3 can monitor up to four vaccine fridges.
Overcoming Cold Chain Challenges for Vaccine Distribution
The following global organizations make up The Measles & Rubella Initiative:
The American Red Cross
The U.S. Centers for Disease Control (CDC)
UNICEF
The United Nations Foundation
WHO
The onset of the pandemic and lockdowns in 2020 disrupted existing immunization programs for preventable diseases (e.g., measles, polio and mumps). At that time, this initiative warned that more than 117 million children worldwide were at risk of missing their measles vaccines due to the COVID-19 surge.
Twenty-four countries delayed their measles immunization programs, and more were expected to follow. Most of these countries were in Asia, Africa and South America. In addition, similar concerns were raised in South Africa specifically.
Beyond recognized that a critical component of this process is building effective systems for managing the cold chain to prevent disease and save lives. The company looked for an IoT technology partner that could provide secure, reliable global connectivity. Moreover, this solution provider would help ensure that its platforms and devices enable organizations to maintain proper vaccine temperatures through the last mile.
For Beyond, connectivity is an enabler. So we sought a partner with a holistic approach to seamless global connectivity that supplies a wide range of future-proof hardware options. We found that in Telit Cinterion.

IAN LESTER, CEO, Beyond
The Solution: Global IoT Connectivity and Modules from a Trusted IoT Leader
We provide Beyond with IoT SIMs and global connectivity to give its technology complete global network redundancy. Our cellular LPWA module portfolio enables reduced costs and extended battery life with Power Saving Mode (PSM) and extended Discontinuous Reception (eDRX).
The Results: Reliable Remote IoT Cold Chain Monitoring for Vaccines
The most advanced IoT connectivity solutions were deployed in Beyond's products and services in 2020. As cold chains expanded exponentially for new vaccine rollouts, the company was perfectly positioned to assist with cold chain monitoring for COVID-19 vaccines.
As Beyond has grown, its technology has changed substantially, becoming faster and more cost-effective. Today, it is the world's leading vaccine cold chain monitoring service provider, with technology deployed in 112 countries and customers.
Using the internet to monitor and control key and strategic assets remotely, Beyond aims to enhance human health and quality of life and secure humanity's future. Leveraging the power and reach of IoT enables us to accomplish this goal.

IAN LESTER, CEO, Beyond
Let us know if you are interested in working on a customer case study.